TD5491 Phenix Customs STAR WARS FRANK OZ with SPIRIT YODA Action Figure RARE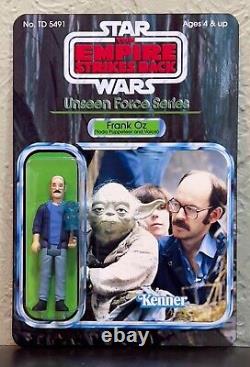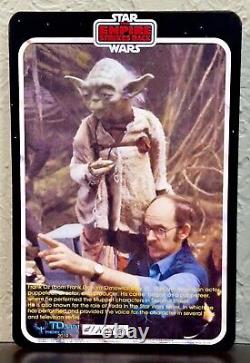 This unique figure set pays tribute to the talented Frank Oz, the legendary puppeteer and voice actor behind the iconic character Yoda. Let's delve into the details and explore the importance of this remarkable figure: Frank Oz - The Master Puppeteer: Frank Oz is a renowned puppeteer, filmmaker, and actor who played a vital role in bringing Yoda to life. With his exceptional skills and masterful puppeteering techniques, Frank Oz breathed life into the beloved Jedi Master Yoda, making him one of the most memorable characters in the Star Wars universe.
This action figure set celebrates Frank Oz's contribution to the franchise. Spirit Yoda - A Force Ghost's Presence: The figure set includes the Spirit Yoda, representing the ethereal manifestation of Yoda's spirit after his physical passing. In the Star Wars saga, Force ghosts appear as translucent apparitions, guiding and offering wisdom to the Jedi Knights.
Spirit Yoda's presence symbolizes the enduring influence and wisdom of the Jedi. The figure features intricate detailing, accurate sculpting, and precise paintwork, making it a true collector's item. The articulation allows for various dynamic poses, enhancing display options.
Commemorating Star Wars Legacy: This rare figure set pays homage to the rich legacy of the Star Wars franchise. It serves as a reminder of the influential role played by Frank Oz and the enduring popularity of the beloved character Yoda. Displaying this figure set in your collection showcases your appreciation for Star Wars history and the talent behind its creation. Its limited availability and exclusive nature contribute to its desirability among Star Wars fans worldwide.
The figure comes in new, unopened packaging, preserving its pristine condition and collectible value. This remarkable set allows you to honor the iconic character and the creative forces that shaped the Star Wars universe. Don't miss out on the opportunity to own this rare and coveted figure set. Embrace the legacy of Star Wars and add a touch of Frank Oz's magic to your collection. May the Force be with you as you embark on this unforgettable journey.