Star Wars Custom Lightsaber, Metal Saber, Saberverse, High Quality Lightsaber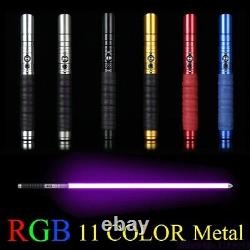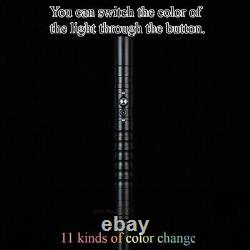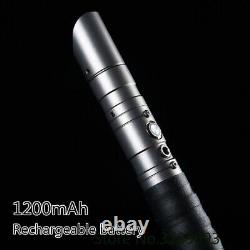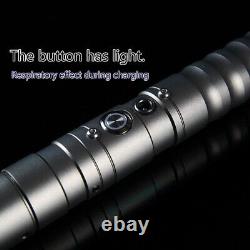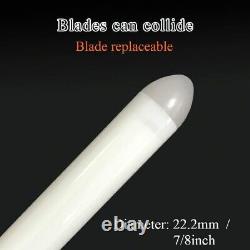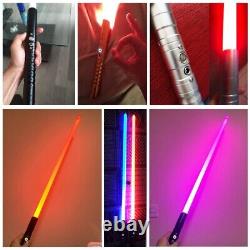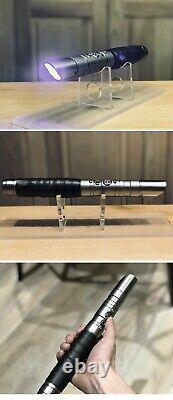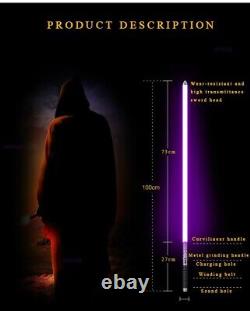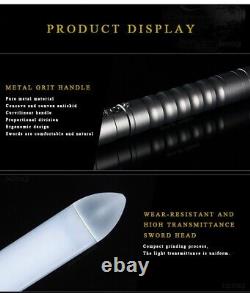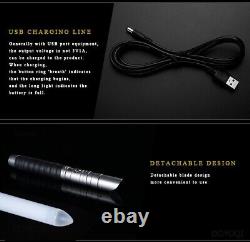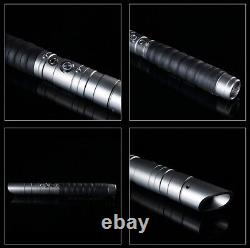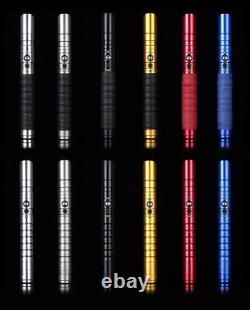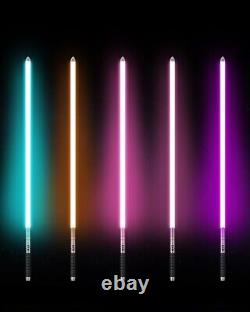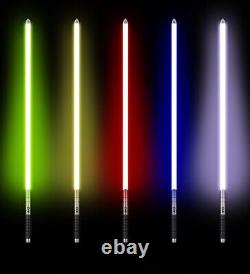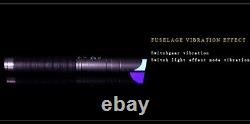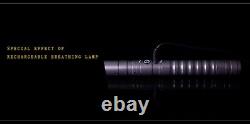 Star Wars Lightsaber Replica, Rechargeable FX Dueling Light Saber, Metal Hilt. Strong enough for medium to heavy dueling. Has flash-on-clash effect for realistic lightsaber duels.
Ultra loud sound volume and bright LED lights. Use the tool provided to loosen the screws in the hilt. This lightsaber has infinite color with thousand kinds of colors.
Removable battery if you take down the main body. Sensitive swing and clash sound like the real lightsaber. Can connect two lightsaber directly into one double blade lightsaber. Material: Metal handle, PC blade. Blade 73cm, total length 100cm.
Blade out diameter 2.5cm. Handle color: Silver, gray, black, gold, red, blue.
Cold white, deep red, pink, red, orange, yellow, green, green, blue, purple, and ice blue. Battery:18650 3.7V Battery 1200mah. LED: 9Watts RGB LED with 11colors. Materials:Hilt made by Frosted Aluminium alloy. Blade made by Light Diffusion PC.
1 x USB charging line. 1 x Six angle wrench in 7 font. Press the button for 3second to awaken the lightsaber from deep sleep mode. Turn ON: Press the button for 1 second.
Turn OFF: Press the button for 4 second. Deep sleep mode: Press the button for 10 second. Press the button for 1 second and release your finger. Then press the button to active lock up. Press again to end the lock up loop.
The lightsaber will automatically flash white and emit a sound when it hits something. Method 2: Infinite Color Change. Press the button for 2 second and release your finger. Press the button again to changing colors. Release your finger to select the colors you prefer.
And press button again to end the color changing loop. If you press the button again, it will still change colors. Sound Fonts Change: 6 set Soundfont. When the lightsaber is OFF, press the button for 2 second to change sound fonts. Repeat to cycle through the sound fonts.
Each sound font has a different confirmation sound. When the lightsaber is OFF, press the button for 1 second to adjustment volume. Children under 6 years old no playing!!! This product is a LED luminous toy. Long time direct vision may affect your eyesight.
The left and right screws of the handle of the hilt are fixed, and can be rotated. The screws on the handle are used for fixing internal fittings. If you do not receive our reply, please kindly re-sent your message and we will reply to you as soon as possible. If you have any problems or concerns whatever with your order or products, please message us and give us a chance to assist you before you leave any feedback.
We believe we can produce a positive outcome to any situation and will work hard to earn your praise.