Star Wars Armada CUSTOM PAINT Resurgent-Class Star Destroyer Model Jedi Cruiser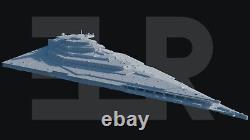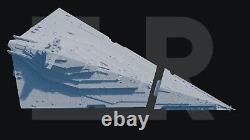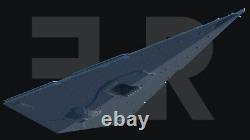 This is for the FULLY PAINTED custom weathered finish printed model. Raw unpainted model available in other listing. Experience the epic battles of the Star Wars universe with the Resurgent-Class Star Destroyer 3D UV Resin Print.
This highly-detailed, unbranded model is perfect for fans of the Resurgent-Class Star Destroyer. It's a great addition to any collection and is perfect for miniatures, war games, and other Star Wars mini games. The model is carefully crafted with attention to detail, ensuring that it accurately represents the Resurgent-Class Star Destroyer. Whether you're a seasoned collector or a Star Wars fan looking for a new adventure, this model is sure to impress.
This is exact replica of the ARMADA size model that is 10"L x 4"W x 3H. The model is printed in a 2 section from RESIN.
Printed with high quality UV resin material. 3D resin printed models show 1/20mm thick layer lines, as pictured (barely noticeable under a zoom lens) since the models are printed layer by layer - this is always the case with 3D printing. Model can be used in Star Wars Armada, X-Wing miniatures game, or for display.
Model can be painted once it is sprayed with a primer and made to look amazing for your custom designs. MODEL COMES FULLY PAINTED in this listing. You are able to customize it any way you want as well by adding colors to match your fleet etc!
Fully painted custom paint scheme models available as well - please inquire.