Anakin Skywalker Sith Head For Bandai Sh Figuarts Action Figures Star Wars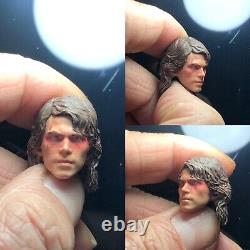 FOR BANDAI SH FIGUARTS ANAKIN SKYWALER HEAD SCULPT ONLY (no figure). DOES NOT INCLUDE FIGURES or Any other items. This is for a head sculpt, no figure, head only.
Only one head is supplied. 1 x head sculpt Anakin Skywalker Sith, Ultra Real. If it's not in your budget, sorry. Suit only the biggest fan who want the most realistic head sculpt. Built specifically for Bandai SH Figuarts Scale.
You will need some blu tak to fix into position as the neck peg hole is wider. This head is hand painted and hand finished. Not in your price budget, SORRY. WHAT OTHER HEAD SCULPTS ARE AVAILABLE? Spiderman IN STOCK Black Panther RE ISSUE, LIMITED AVAILABILITY AntMan CHECK LISTINGS Tony Stark, Iron Man MK50, SUBJECT TO AVAILABILITY JUNE Iron Man MK50, Nano Weapons Set, ORDERS CLOSED Tony Stark, MK4, LIMITED STOCK Captain America Shields, Infinity Wars, ORDERS CLOSED.
Iron Man, LED Display Base, CHECK LISTINGS BLADE, Limited Availability. Punisher, MEZCO, ONE AVAILABLE CHECK LISTINGS. Captain America, End Game, SH Figuarts/ Marvel Legends AVAILABLE Rhodey, War Machine, AVAILABLE.
Robocop, Alex Murphy, MAFEX, LIMITED AVAILABILITY Din Djarin, SH Figuarts Feb/Mar 21. SEE PHOTOS OF THEM HERE If you cannot view the link, try on a computer!