Star Wars Lightsaber Custom Made Features will blow your mind! Crystal Focus 10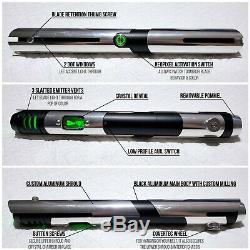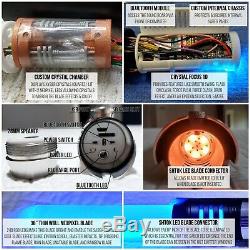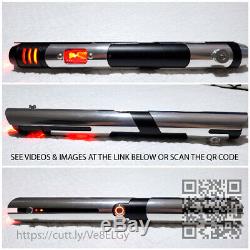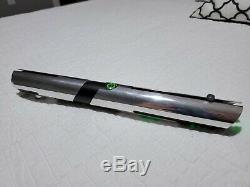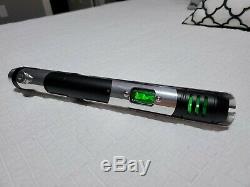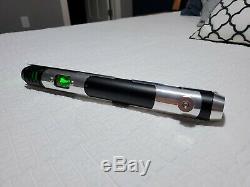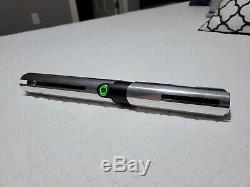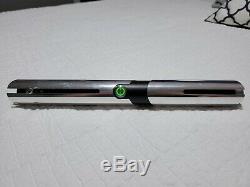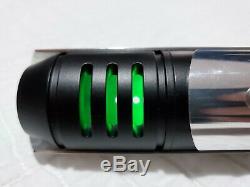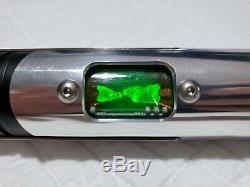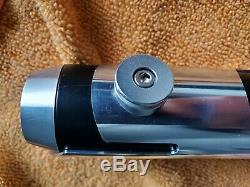 If you are serious, please ask me for more images and videos! Unfortunately I can't upload the videos & extra images here. This is a one-of-a-kind custom built, feature packed, lightsaber! It is one of only three (the other two are exact twins and my personal sabers which wont be reproduced). This saber has been milled from beautiful aluminum and powder coated black.
The hilt design features clean lines and minimalistic shapes making it super sexy. 2 dot windows and 3 vent slats in the blade emitter allow light through when the blade is ignited, which combined with the crystal chamber reveal window, grab your attention and make you feel like a light drunk insect. A removable pommel cap allows you to access the saber internals with ease and without cluttering the minimalistic design. The insides are just as nice as the exterior with a custom designed crystal chamber and sound board chassis to organize all the internal components and keep them secure and safe from damage.
In addition to the thoughtful design, this saber is packed with features and only uses the best components on the market! The NeoPixel blade is insanely bright and is the latest in saber technology allowing ignition scrolling, blaster impacts, rain effects, flame effects, and more. The Plecter Labs Crystal Focus 10 sound board is a super brain and has more features than you could ever imagine.
It comes loaded with 13 sound fonts (you can load as many more as you want) which change the way the saber sounds and reacts. The biggest feature of this board is the Smooth Swing technology which is what makes this saber feel more like the real thing than any other sound board out there. The Saber reacts to every movement; fast, slow, small, large. It feels and sounds amazing in your hands! This lightsaber would make any Jedi/Sith the envy of the galaxy! NeoPixel Blade 248 RGB LEDs make this blade bright and enable the saber to have cool blade effects like ignition scroll, blaster impacts, tip dragging, flame blade, rain blade, unstable blade, and rainbow blade. 36 Long, 1 diameter, translucent white, thin-walled, blade Carefull, the blade can be smacked against things to create the clash effects, but should not be used for full on dueling.
Shtok LED blade connector This little connector allows every inch of the blade to be illuminated which is essential for this saber design since the end of the blade can be seen in the hilt emitter windows and a dull, unlit spot at the blade connection would be undesirable. Black aluminum main body with custom milling. 2 Dot windows in blade emitter to let a little accent light through. 3 Slatted emitter vents let blade light through for a pop of color. Shtok LED hilt side blade connector allows blade emitter to be lit when blade is not inserted.
Custom made NeoPixel activation switch This allows switch to mirror blade behavior & color without the slightest difference. Crystal Reveal At the heart of every lightsaber are the Kyber Crystals (Quartz) which are displayed on this saber through a window in the hilt, revealing a custom-made crystal chamber and lit with 2 NeoPixel LEDs allowing crystals to mirror the blade effects & color. 2 Screws Secure upper shroud and crystal chamber in place. Aluminum covertec clip wheel Allows you to hang this elegant weapon on your belt, it also keep the lower shroud and interior chassis in place. 28mm Speaker Combined with a slatted pommel insert, provides great sound.
Power indicator LED (Aqua when on, Blue when asleep, off in deep sleep). Bluetooth indicator LED (Blinking blue when on, Solid red when connected).
Custom internal chassis Organizes, protects and secures internal saber parts. Crystal Focus Version 10 This sound card Provides features like smooth swing, flash on clash, force push, force clash, drag effect, angular ignition selection, & a ton more.
Sound Fonts - Comes preloaded with 13 different sound fonts (6 of which are smooth swing enabled fonts) plus you can add as many more as you want and they can all be accessed on the fly from the saber. The blade is not thick-walled and thus dueling is not recommended. Everything has been tested and is working perfectly. Please do not try and take the saber apart. This is a complicated build with lots of wires and parts. If you do not disassemble correctly, you will likely break something. The only part that is designed to be removed is the pommel which unscrews to give you access to relevant interior components. This saber is brand new and only used to create marketing materials and to test all components. I think this saber is in terrific condition, however, it is a hand crafted item and thus there are small imperfections that are unique to each saber that have come as a result of manufacturing or assembly, please ask for more pictures and I will be happy to point out everything I can think of.
Everyone has varying degrees and expectations of a sabers condition, so I will send as many pictures and videos as I can to try and fully communicate before hand exactly what you are getting. The most apparent flaw on this saber is a small, shallow, hair line scratch in the black powder coat at the bottom of the saber.
Its really hard to see in the images as it requires the right lighting. It is shown best in the close up image of the belt clip wheel with the orange microfiber cloth. This saber does not come with. Battery charger, if you do not already have one, this can be found online at t. Blade plug This is an optional piece that makes the inside of the emitter look fancy when the blade is not inserted. USB Cable to connect the sound board to the computer. There are many functions and features of the CFX soundboard, that it is best to consult the user manual for that component to understand them all. The item "Star Wars Lightsaber Custom Made Features will blow your mind!
Crystal Focus 10" is in sale since Thursday, December 5, 2019. This item is in the category "Collectibles\Science Fiction & Horror\Star Wars Collectibles\Lightsaber & Weapon Replicas". The seller is "*b-tron*" and is located in Ogden, Utah.
This item can be shipped worldwide.
Featured Refinements: Crystal Chamber Reveal
Sound Card: Plecter Labs Crystal Focus 10
Product Line: Crystal Focus 10
Type: Lightsaber
Year: 2019
Color: All Colored Blade (RGB)
Featured Characters: Star Wars
Brand: Custom Crafted