Star Wars Custom Air Conditioned Imperial Biker Scout Trooper Helmet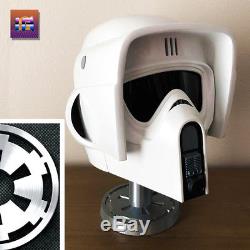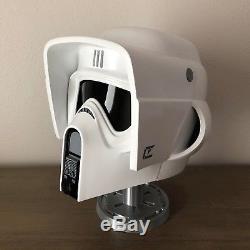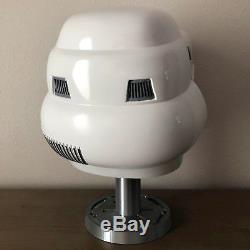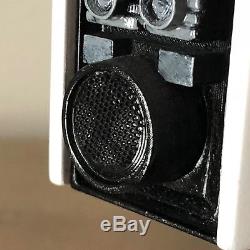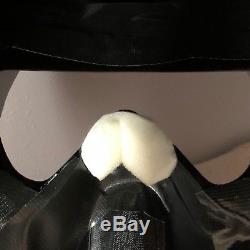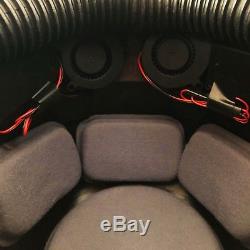 This is a made to order Custom Imperial Biker Scout Trooper Helmet. It was made to fit my head which is in the medium size range. If you need a different size them send me a message and we'll go from there. This helmet is assembled from a 3-D printed PLA plastic and is then smoothed and painted. All other details are then applied.
I also take the time to add a high gloss effect through out the helmet to make it look more like the original prop. All black venting is made from black vinyl spandex. The cushions are FMA foam helmet pads which are attached by velcro and are easily removable AND washable.
There are also dual ducted fans which are attached to dual 9v battery packs that can be turned on and off at will. The visor comes from OPLE Props in Germany and is one way mirrored someone can see your eyes but you can see clearly. All graphics are made from high quality decals.
THE "UNFINISHED HELMET DIY" OPTION IS FOR A PRINTED SET OF PARTS WHICH YOU CAN ASSEMBLE AND PAINT ON YOUR OWN. Note: Made to order per customer. I offer the helmet fully finished with and without the 3D printed stand. Perfect clear view through the lense, like if you're wearing sunglasses.
No eyes of the wearer visible when the lense is mounted. The helmet stand is printed in silk silver PLA and makes a very nice display for when you aren't trooping!
Since scout troopers were light scout sniper units, their armor was noticeably lighter than normal stormtrooper armor. Their helmets had visors derived from macrobinocular scopes that allowed them to see longer distances, for sniping and reconnaissance purposes. These visors also equipped with terrain-following tactical readouts, and were capable of detecting energy emissions, night vision, and designated target magnification. On their torso, the armor had several packs, allowing the trooper to carry various equipment. Their power unit backpack was also modified to act as a storage backpack for various gear.
In addition, the built-in comlink systems in their helmets were also boosted to ensure long-range distance calls. Most of the equipment they carried was used for survival and camping, as they did much of it during long scouting treks.
Scout troopers were trained and equipped to be able to survive without assistance from other Imperial forces for long periods of time. Alot of love goes into this process and I believe it really comes out in the final product! The results may vary slightly from item to item since this is a made to order product.
PLEASE KEEP IN MIND WHEN ORDERING THAT THIS ITEM TAKES 2-6 WEEKS TO COMPLETE. The item "Star Wars Custom Air Conditioned Imperial Biker Scout Trooper Helmet" is in sale since Monday, October 29, 2018. This item is in the category "Entertainment Memorabilia\Movie Memorabilia\Props\Reproductions". The seller is "yourcustomstuff2019" and is located in New Smyrna Beach, Florida. This item can be shipped worldwide.